Manitoba is a beautiful province, with much of the province being part of the prairie region of Canada, while the south & northeastern edges of Manitoba are part of the Canadian shield, as evidenced by all the rock formations in the area! Our province has so much to see, so why not check out some of the sites this summer!
If you don't have a car, Peg-City Car Co-op and Chesskings are great options to get you there as well! Visit our benefits page for more information – click here!
Winnipeg Beach & Gimli
With these communities being just an hour and 70 minutes from Winnipeg respectively, these towns are a perfect spot for a day at the beach, or a little weekend getaway! With multiple beaches and plenty of food options along the downtown strip, Winnipeg Beach is a hugely popular spot for families!
The Icelandic town of Gimli, which celebrates Icelandic festival in late July has multiple beaches as well as a plethora of incredible food choices, not to mention summer concerts, skydiving, golfing, and more! Grab a bite and take a long walk out to the end of the harbor pier, and maybe even get a chance to see The Namao – the Lake Winnipeg research ship!
Find out more about Winnipeg beach here: https://winnipegbeach.ca/
Find out more about gimli here: http://www.gimli.ca/p/parks-beaches
Pinawa Dam Provincial Park
Although Pinawa is a bit further away from Winnipeg, this provincial park takes you into the start of northern Manitoba, showing off the diverse landscape and offering lots of options for activities! Cool off with a float down the lazy river in one of the tubes or rent a canoe/kayak with your friends and head down the river! If that's not your style, there's golf as well as the beach!
The provincial park also offers numerous hiking trails, with the longest being a 27.5km hike which takes you from the Seven Sisters Generating System to the Pinawa Dam Provincial Park. Along with that trail are plenty of other, much shorter trails (1.1km is the shortest). The town of Pinawa is close by, which has multiple places for overnight accommodations! This is a wonderful spot for a weekend getaway in a quiet and scenic spot!
Learn more about the Pinawa Dam Provincial Park here: https://www.gov.mb.ca/sd/parks/park-maps-and-locations/eastern/pinawa.html
More info on the lazy river rentals here: https://floatandpaddle.ca/
Birds Hill Provincial Park
Birds Hill Park, located within 30 minutes of Winnipeg, is a lovely provincial park with 2 beaches for swimming and plenty of hiking trails for a nice daytime trip! There are a total of 19 formal trails for hiking and some that park visitors have created which aren't mapped. With spots for food, picnics, volleyball courts and fully serviced campsites, Birds Hill is a fantastic spot for a weekend day-trip with a group of friends, or to take your kids to the beach for the day!
Find out more about the trail maps & park info here: https://www.gov.mb.ca/sd/parks/park-maps-and-locations/central/birds.html
Oak Hammock Marsh
Oak Hammock Marsh is a wildlife preserve in Manitoba which is dedicated to waterfowl and wetlands amphibians and reptiles! With 36km2 of space for the animals, and walking trails scattered throughout – this is a birdwatchers paradise!
Home to 25 species of mammals, roughly 300 species of birds, various amphibians and reptiles! During the waterfowl migration times, the number of birds in the park at one time can exceed over 100,000 birds! Less than a 45 minute drive from Winnipeg, this is a wonderful way to surround yourself with wildlife in the animals natural habitats!
Find out more about Oak Hammock Marsh here: https://www.oakhammockmarsh.ca/
Turtle Mountain Provincial Park
Turtle Mountain Provincial Park is a large provincial park in southeastern Manitoba near to Boissevain, roughly a 3-hour drive away from Winnipeg. With plenty of hiking trails, and rolling hills of the red river valley, these trails offer views from some of the highest points in southern Manitoba! There are also 3 major lakes with camping in the park, and around 200 other lakes and wetland areas within the park!
There is a large variety of wildlife, with fishing that yields great results, to moose, white-tailed deer, beavers, raccoons and more – this park is a great opportunity to see some of Manitoba's larger wildlife in their natural habitat!
Find out more about Turtle Mountain Provincial Park: https://www.gov.mb.ca/sd/parks/park-maps-and-locations/western/turtle.html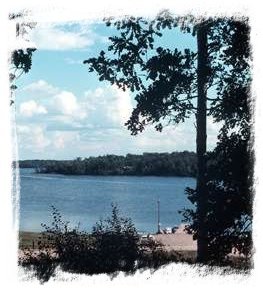 St Malo Beach
St Malo beach is located ~1 hour south of Winnipeg, near to the town of St Malo! With 2 beautiful beaches surrounded by walking and hiking trails close by. The Rat River Dam and Dyke are also nearby and easy to explore, and this is a great spot for a beach day with your friends or family!
Find out more about St Malo Beach here: https://www.gov.mb.ca/sd/parks/park-maps-and-locations/eastern/malo.html